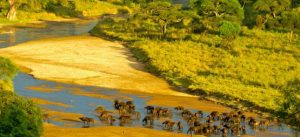 Tarangire National Park is not as famous as Serengeti or the Ngorongoro Crater, but absolutely worth visiting if you love elephants and want to experience a more quiet and authentic safari. We give you much more reasons why you should visit Tarangire National Park.
Highest elephant concentration

The park is renowned for the highest concentration of elephants in the world, around 3,000 elephant at the peak of the dry season. Sometimes you see herds of elephants up to a few hundred strong.

Authentic safari

Tarangire offers a much quiet and more authentic safari experience than other parks in northern Tanzania. Particularly the southern part is remote and far away from the crowds.

Huge wildlife concentration

The concentration of wildlife is exceptional. You can see wildebeest, zebras, buffaloes, giraffes, elephants, ostriches, baboons, velvet monkeys, warthogs, mongoose, pythons, lions, hyenas and leopards.

Abundant birdlife

Birdlife in Tarangire is abundant. Over 550 bird species have been recorded, like the yellow and saddle-billed storks, orange-bellied parrots, red-and-yellow barbets, ashy starlings, lilac breasted roller and large flocks of yellow-collared lovebirds.

Pythons and lions climbing trees

Tarangires pythons climb trees, as well as its lions. An unusual and amazing sight.

Close to Arusha

Tarangire is ideally located, just 2 hours drive from Arusha and close to the famous Serengeti National Park and Ngorongoro Crater (Tanzania's northern safari circuit).

Tarangire river

The Tarangire River is the only source of water in the dry season from June to September and attracts enormous numbers of animals from the surrounding areas. This is the best season for a game-viewing safari in Tarangire.

Baobab trees

The park is full of gigantic baobab trees. Some of the baobabs are over 300 years old.

Different habitat

The landscapes in Tarangire are very diverse, from grassy savanna to dense forests and swamps. A very different habitat than in the other northern parks.

Awesome views

Breathtaking views of the Masaai Steppe and the mountains.

Tarangire National Park can be incorporated into your safari. Contact us for advice.